Have you noticed your smile changing over time? Has a love of tea and coffee caused your smile to dull? Even if you stay away from those teeth-staining drinks and food, it's always possible that your teeth dull and yellow over time – it can just be part of life! Whatever the reason for your stained teeth, Eugene Family Dental has Teeth Whitening solutions that can bring the shine back to your teeth!
Whether you want to whiten your smile in our office or in the comfort of your own home, we're more than happy to help!
Zoom! Whitening in Our Office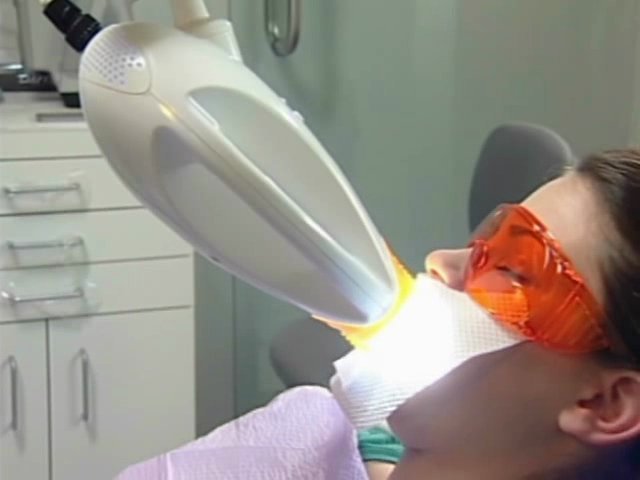 Zoom! whitening is an amazing two-part whitening process that can get your teeth up to eight shades whiter in about 45 minutes! The secret lies in the proprietary Zoom! whitening light that works together with a specially formulated whitening gel to produce fast and incredibly effective results!
We'll start your whitening process with a thorough cleaning of your teeth, generally at a prior appointment. This ensures that your teeth will be whitened evenly and thoroughly without any spots due to plaque! After that, we'll plan for your second visit to get your teeth perfectly white!
The whitening process usually takes 45 minutes to an hour and involves three fifteen-minute rounds of treatment. We start with an application of special plastic sealant that will protect your gums from the light and whitening gel, and then the gel is brushed onto your teeth. The light is then situated directly on your mouth for fifteen minutes.
After each round of whitening, we'll remove the used gel and replace it with a fresh coat and reapply the light. Once you've completed three rounds, you'll immediately be able to see the amazing new shade of your teeth!
At-Home Whitening
If you don't want to spend time in our chair waiting for your teeth to whiten, we completely understand! Whether your schedule is too busy or you just want the convenience of at-home whitening with a product stronger than over-the-counter versions, we have just the thing for you!
Our at-home teeth whitening kits consist of custom-fit whitening trays to get you a whitening coverage that is even and complete – you'll love the fit and feel of your whitening trays! By wearing your at-home whitening trays in the evening for several weeks, you'll see a radical difference in the color of your teeth – you'll absolutely love your new smile!
Whitening your teeth can be an incredibly easy experience, and it's the perfect way to spruce up your smile! You can get a whiter smile today by calling us at 541-484-1235. We look forward to hearing from you!