Dentures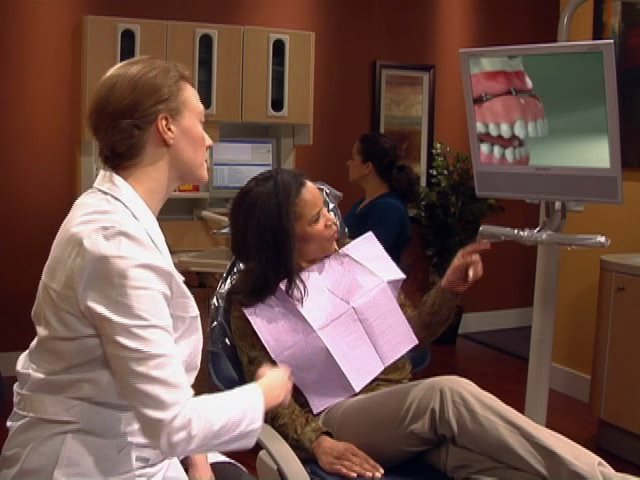 Are you embarrassed by your tooth loss? Have you been silently suffering with difficulty chewing and self-consciousness at family gatherings? Do you have dentures that just don't fit anymore and need another option? Whether you're missing a few teeth or all of them, you don't have to put up with your predicament thanks to the great dentures we offer at Eugene Family Dental!
Dentures sit in your mouth and stay in place based on suction, but that isn't the only kind of denture we offer. We have partial dentures that secure to your teeth, and even implant-supported options that will give you a level of stability you never thought possible!
Your New Dentures
A visit to our Eugene dentist office to get dentures starts with an assessment of your current oral health and the health of your remaining teeth. If you are missing only a few teeth and want to get a partial denture, we'll need to be sure that the rest of your teeth are healthy – you'd hate to lose more after getting your dentures made! If you have only a few teeth left and want full dentures, we'll work with you to schedule an extraction appointment to remove any remaining teeth.
Once your mouth is exactly where you want it, we'll take an impression to help us build your dentures. The impression is sent to a dental lab that constructs your new dentures out of high-quality materials, either plastic composites or, in the case of partial dentures, plastics bonded to metal frames. Once we receive your finished dentures back from the lab, we'll have you in for a final fitting to make sure your dentures are everything you've expected!
If you are getting full dentures, we'll be able to provide you with a temporary set so that you can still eat, talk, and smile while waiting for your new set to be constructed.
Implant-Supported Dentures
For patients wanting a more stable solution, or for those who are unhappy with their current denture fit, we're thrilled to offer implant-supported solutions to get you a set of removable dentures that are more stable than you could imagine!
Dental implants act just like the root of a tooth and are solidly connected to your jawbone. We'll refer you to a local oral surgeon for placement of any implants you need, and once you're healed, we'll determine which kind of implant support is best for your dentures!
Implant-retained dentures sit on a series of metal balls that are attached to the top of your implants. Your dentures are modified with sockets that snap onto the balls and keep your dentures perfectly in place until the end of the day, when you'll remove them like normal.
Implant-supported dentures are held in place by a bar attached to your implants. We modify your dentures to include a series of clips, which hold the bar snugly all day long!
One of the best things about implant-retained and implant-supported denture solutions is that you'll never have to use dental paste again! You'll be free from bad tastes, slipping and irritation, and the constant fear that your dentures could come loose at any moment.
If you are interested in a new set of dentures or want to explore options to improve your denture experience, call us today at 541-484-1235! You can also schedule an appointment using our online form. We look forward to seeing you soon!