Protecting Your Family's Smile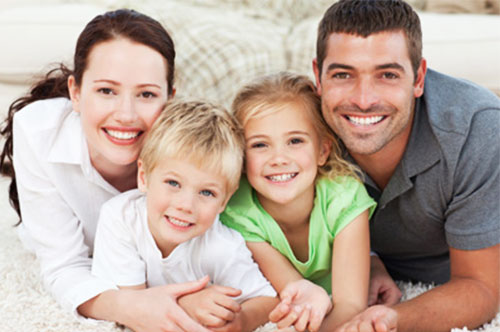 Are your children safe?
It's a question you ask yourself whenever they leave your sight. As a parent, you want your children to be safe so they can be happy and healthy.
Whether they're at school, playing at a friend's house, or practicing team sports, your top priority is to make sure they are in a safe environment in which they can grow and learn to their heart's content.
But there's one thing that can pose a danger to them no matter where they are, even when they're sound asleep in their beds at night.
That danger is called tooth decay, and it affects 1 in 5 children between the ages of 5 and 11. That's how many children in America have at least one untreated tooth suffering from decay.
If you aren't doing your best to ensure they have the best oral health care from your Eugene dentist, then they could eventually become yet another grim statistic.
I want what you want: For your family to be happy and healthy. One of the easiest and most effective ways to do that is by letting me and my highly skilled staff protect the smile of your entire family with comprehensive dentistry and orthodontics.
The alternative is to invite certain ruin to their smiles. Children are especially at risk for a number of oral health diseases if they don't receive the kind of care that I can provide for them.
By failing to do everything everything in your power, they could develop gum disease, cavities, and other problems that can quickly spiral out of control, causing extensive damage to their oral health and potentially threatening their lives.
It doesn't have to come to that desperate point if you seek my help for preventative care that your whole family can benefit from.
Procedures For Healthy Teeth and Gums
Since February is National Children's Dental Health Month, I want to share with you how some of the services offered by my practice, can safeguard the smiles of your family no matter their age.
The first thing you must do is call me to schedule a consultation appointment. That way I can get to know the smiles of your family, and discover if there are any issues interfering with their development and appearance.
Based on my observations, I will craft a comprehensive plan that will address every single one of their issues – including yours. Children tend to be more comfortable in a healthcare setting if they can see an adult they trust receiving the same treatment as them.
If your child is already displaying teeth that are growing abnormally, then I may begin an orthodontic treatment. This will help to correct their smile so that their teeth with grow straight and beautifully.
In that case, the earlier I can treat your child, the better. The bones that affect the shape of a smile are much easier to realign and correct before puberty, so bringing your child to me now can save your family needless pain and expenses down in the future.
Here are some of the other services that can help protect your family's smile:
Tooth sealants – Getting any kid to eat less sugar is a lot easier said than done. I'm sure your family is no exception! If you can't achieve the impossible, then the next best thing is to chemically protect teeth from the acids produced by mouth bacteria. Tooth sealants can help prevent the formation of cavities, and can even protect from some staining by forming a protective layer over the tooth itself.
Oral hygiene instruction – I can teach your children the ins and outs of maintaining a beautiful, healthy smile. They'll be excited to learn how to beat big, bag bacteria, and will receive an education about their oral health that they won't get in school! That information will serve them well into adulthood.
Fluoride treatments – Fluoride mouthwash and toothpastes can help reverse some of the damage caused by cavities by nourishing your tooth enamel. Not only can they help repair teeth, but a fluoride-based treatment can also halt or even reverse the effects of early tooth decay.
Athletic mouthguards – A bit different than the other services, but no less important. If your child is active in sports, then you cannot trust over-the-counter, one-size-fits-all mouthguards to prevent their teeth from breaking or shattering during a dental accident. Because I custom-fit the mouthguards for each individual patient, they're extremely comfortable, as well.
As you can tell, I can do quite a lot to keep the smiles of your loved ones safe and sound.
But they're waiting on you to make the right call – specifically, a call to my office to schedule an appointment that will preserve or even fix their smiles.
You can reach me at 458-205-5189, or you may also request an appointment online by clicking here.