Preparing Your Child For Smile Success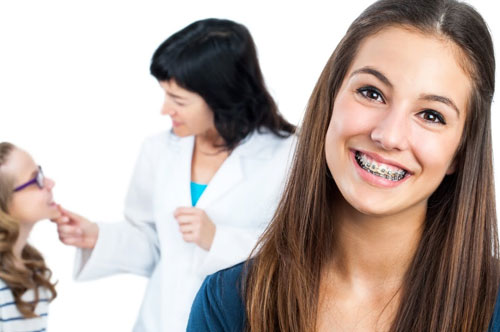 As we mentioned earlier this month, February is National Children's Dental Health Month.
If you have a young child, or are planning on having one, then you can't afford not to read this short post about how to prepare your child for a lifetime of good oral health.
I've treated my fair share of children over the years, and I've learned how to get them comfortable with taking care of their teeth and gums and how to make treatment fun instead of scary.
In my office, I have a toy box bursting with stuffed animals and other goodies to keep kids occupied and having a good time, which can be a perfect setting to talk to them about any treatment they'll need.
I'll give them a tour of my office, answering any questions that they might have about all of the strange-looking equipment. Because a dentist's often can be an intimidating place for a young child, showing them all of the ins and outs of my office will get them comfortable enough to receive the treatment that they need.
But my question for you, as a parent, is: Do you know how to do that for your child?
Making sure your child maintains their smile isn't something I can be around for 24 hours a day, 7 days a week – so that's where you come in!
We have quite a bit of ground to cover, so let's get the show on the road!
Healthy Smiles Start At Home
There's a lot that you can do as a parent to keep high dental health standards for your child without becoming a taskmaster or a drill sergeant.
In fact, many of the following tips are about empowering your child to take responsibility for their smiles – and to have a little fun in the process!
Let's begin!
Turn brushing into a game – The only rule I'd recommend for making brushing fun is to not turn it into a race. Your child should be comfortable spending at least a couple of minutes brushing their teeth, because that's how long it will take them to thoroughly brush once they're adults. Otherwise, have fun!
Teach by example – Your child looks up to you in more ways than one. If they see you neglecting to brush your teeth, then they may start to question why it's so important that they should bother doing it. If they witness a grownup regularly brushing and flossing, they'll learn that that's something they should do, too. By acting as a good role-model for their oral health, you'll be preparing them for better oral health when they're all grown up.
Let them pick the brush – Sure, you might be annoyed with all of those bells and whistles on that Captain America toothbrush, but trust me: Anything that gets your child excited about brushing their teeth is priceless. And the simple act of allowing them to choose the brush itself gives them a sense of ownership over their teeth that can hard to teach to them in words.
Let them brush alone – You and your child should brush your teeth at least two times a day. For one of those times, allow your child to brush on their own. This helps reinforce that sense of ownership over the act that I was just talking about. It will also help nurture their growing independence, which is going to happen one day whether you like it or not!
Schedule an appointment with me sooner rather than later – I can't stress this one enough. The earlier you can establish a relationship between me and your child, the more comfortable they will be with their oral health (and the necessary procedures that come with it). I recommend scheduling their first appointment by their first birthday, in which I'll make a visual examination of their teeth and begin a lifelong commitment to serving their smile!
I see children of all ages, so even if I won't be their first dentist, I'm confident that I will be the last dentist they'll ever need.
My passion for serving Eugene families is matched only by my skill, so pick up your phone, give me a call, and ensure that you and your loved ones will get the best oral healthcare around.
To schedule that appointment, please call 541-719-8260. You can also request an appointment with me online by filling out a simple form.
You need a children's dentist you can trust, and I look forward to meeting your little one!